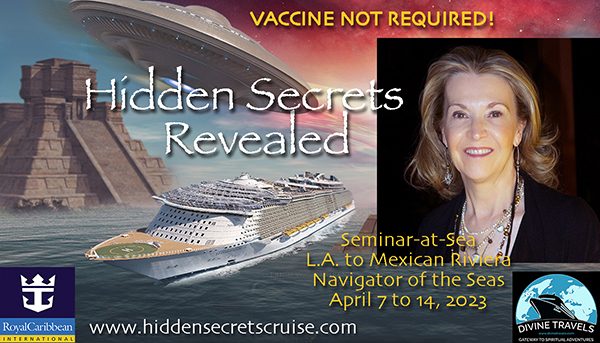 I am really excited to invite you to sail with me to the Mexican Riviera with an amazing lineup of experts, including Nick Pope, Jimmy Church, Adam Apollo, Scott Wolter, and many more.
Vaccinations are NOT required!
Our amazing "Hidden Secrets Cruise and Seminar-at-Sea" is coming up April 7-14, 2023, sailing from Los Angeles, CA to the awe-inspiring beauty of Mexico's Pacific Coast: Cabo San Lucas, Mazatlan, and Puerto Vallarta.
Check out the website: www.hiddensecretscruise.com
Join with like-minded souls in the experience of a lifetime!
Explore "the truth that's out there" on our awesome Hidden Secrets Revealed Seminar-at-Sea, which takes place right onboard an extraordinary, luxury cruise ship during a 7-day cruise, in conference rooms on the ship, and during port calls in the Mexican Riviera. Join us!
During this incredible, mind-blowing, truth-telling, enriching, unique event, we will unearth the truth about all things hidden, with some of the most respected experts, researchers, authors, teachers, and speakers on the planet.
This cruise will not only uncover the lies. It will reveal the truth. As we dispel the darkness and shine the light of wisdom, we enter the true light of awakening.
And all seminars are free.
ALL are welcome to discover the real truth, together.
REGISTER NOW at
www.hiddensecretscruise.com
Please make sure to mention my name when you register.
On Our Hidden Secrets Cruise:
Join us on an incredible cruise as we sail to beautiful fun-filled tropical ports.
Visit fascinating sites and enjoy amazing shore excursions unavailable elsewhere.
Enjoy fun in the sun on pristine beaches and marvel at native wildlife and sealife.
Enjoy veg, non-veg, vegan, gluten-free, kosher, or raw food on a ship that boasts some of the best meals at sea.
Participate in awesome, mind-expanding workshops and activities with famous researchers, investigators, and whistleblowers.
View the starlit sky with a nightly UFO Starwatch with night-vision goggles led by a professional guide.
Make new precious friends, gain greater knowledge and wisdom, and create memories that last a lifetime.
 Enjoy 7 days of awakening, as we sail into the truth that sets us free.
What Will Be Revealed?
 We will unearth the REAL buried treasure of all ages: hidden mysteries from      antiquity until today:

 Hidden secrets about lost civilizations, indigenous peoples, and shamanic   practices.

 Forbidden archaeology, alien intervention, esoteric wisdom, and alchemy.

 Primordial sacred knowledge, secret religious rituals, and holy bloodlines.

Ageless spiritual practices, arcane healing methods, and clandestine societies.

Cycles of time, forbidden astronomy, theoretical physics, ancient scriptures, and so much more.
REGISTER HERE NOW:
www.hiddensecretscruise.com
Please make sure to mention my name when you register.
See you on the ship!
Much Love,
Jennifer Stein