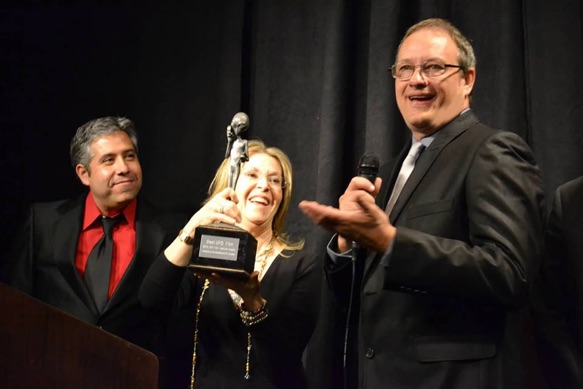 Left to Right- Alejandro Rojas, Jennifer Stein and Ron James.
Alejandro Rojas from Open Minds enjoys the surprise Ron James and Jennifer Stein experienced accepting their second EBE film award called the "Peoples Choice" award at the International UFO Congress Film Festival in Scottsdale Arizona, for their film "Travis - The True Story of Travis Walton".
To date this film has won 30 mainstream film festival awards internationally. Jennifer is happy to arrange film screenings for small groups and conferences. Visit TravisWaltonTheMovie.com for details.
Jennifer W. Stein founded Main Line MUFON in September of 2002 providing free monthly programing at the Tredyffrin Public Library in Radnor PA.
Main Line MUFON serves as a branch of MUFON PA -The Mutual UFO Network, providing free monthly public educational programs about of the UFO phenomena, and other areas of interest to the Main Line of Philadelphia.
As of 1 March 2020 these have become virtual programs, click here to view.
.
Main Line MUFON Founder
Jennifer Stein is director of the Main Line MUFON group. She is a Pennsylvania State Section Director for public outreach and education. Jennifer is a trained field investigator for the Mutual UFO Network.
Jennifer is a long time member of the Noetic Sciences organization after meeting Edgar Mitchell in 1973. Jennifer hosts free monthly programs in her community at the Tredyffrin Public Library in Wayne PA to debate UFO related incidents and other topics of interests.
Jennifer presents frequently for civic and community groups to help educate the public about, Crop Circles, MUFON and Noetic Sciences, and she screens her documentary films for groups on request.
Jennifer Stein became active in MUFON in 2002 by invitation from the acting state section director Tom Cary. After a significant UFO sighting in 1974, Stein was challenged to make sense of this event and place it in the context of known reality. Participation in MUFON has made this possible, through learning from others with similar experiences.
Jennifer currently works as an independent documentary film maker. She works to bring personal stories and unique information to the public that that would not be covered by mainstream media.
Jennifer film web site Onwinges Productions and provides an overview and in more depth of her past productions and award winning documentary films.
Travis – The True story of Travis Walton
, was three years in the making. All living members of the original logging crew are featured.
Current and archived interviews are woven of the police sheriff, the chief polygraph expert for Arizona in 1975, as well as UFO experts Stanton Friedman, Kathy Marden, Ben Hansen, James Fox, Peter Robbins, and Lee Spiegel.
If you want to learn more about Jennifer and her involvement in this facinating story, click
here
.
The Disclosure Dialogues.
In 2012 Jennifer Co produced The Disclosure Dialogues project with filmmaker Ron James. This is a 5-disc DVD set of discussions between the experts in the UFO field. To learn more, watch a preview, or purchase this DVD Click
here
. A radio interview Jennifer did about the project with The ParaCast Radio can be heard by clicking
here
.