Calendar of FREE Monthly Programs
Program Details for 2022-23
All presentations will be posted on YouTube after they are recorded, to view these presentations click the video links on the video page with each program description.
To join our Zoom programs with speakers sign up here for our monthly meeting reminders.
IMPORTANT Notice: We will bring you these great presentations via Zoom online. Hope you can join us!

We are always pleased to host presentations from some of the country's best known experts. Check out our previous presenters by clicking here.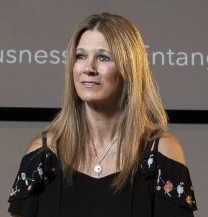 Tuesday, January 17, 2023-7:30 pm EST, Katie Paige -High Strangeness on a Colorado Ranch—Craft, Cattle, Copters, Cryptids & Cover-Ups
Katie's presentation will take you on a personal journey, as she shares what she's uncovered in her decade-long pursuit of answers to her experiences on a Colorado ranch.
In UFO folklore, it was known as the "Clearview" Ranch and pre-dates the Skinwalker Ranch by over 15 years.  At the time the newspaper headlines dubbed the ranch the "Close Encounter Capital of the US".  Its mystery and intrigue are referenced in several books, including Hunt for The Skinwalker by Colm A. Kelleher Ph.D. and George Knapp; Alien Contact: Top-Secret UFO Files Revealed by Timothy Good. A well-known UFO researcher, Dr. Leo Sprinkle Ph.D. investigated and detected "High strangeness" including dozens of cattle mutilations, menacing copters, mysterious lights, unusual humming sounds, paranormal activity, burn marks on the ground, baffling disappearing boxes, strange entities, disembodied "electrical" voices, and Bigfoot encounters.
Katie will also share her insights on phenomena that are often associated with this level of contact: dark figures, blue orbs, paranormal phenomena, psychic abilities, lucid dreams and/or precognitive dreams, and synchronicities beyond chance. She asks" Is there a connection?"
Katie Griboski Paige is Colorado MUFON's State Director, a STAR Investigator for MUFON, and is the team lead/administrator for MUFON's MARRS Team. Visit her website at www.katieGriboski.com.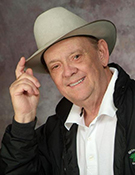 Tuesday, February 21, 2023- 7:30 pm EST author Larry Holcombe-"The Great UFO Coverup" presentation followed by Q and A
After 40 years working in sales, Larry Holcombe became the author he always wanted to be, publishing his first novel, The Great River Disclosure.(Brandylane Publishers-2009)
He learned of ufology in the late 1950s after reading Major Donald Keyhoe's, Flying Saucers Are Real and Flying Saucers from Outer Space, starting a 50-plus year study and avocation into mainstream research of the most important story in the history of mankind.
The Great River Disclosure, a thriller novel, is based on his theories of the UFO phenomenon to appeal to many who would not read a UFO-related work of non-fiction, and perhaps spark a desire with skeptics to take a closer look at the UFO phenomenon.
"I continue to believe that Roswell, and the bungling of crash retrieval events, was the defining moment in the development of the United States policy towards the UFO issue. My writing and speaking efforts now center on bringing light to bear on media indifference to the UFO issue, and the continued United States denial and cover-up of UFO issues." (This is in stark contrast to other countries around the world that open their files and acknowledge the existence of UFOs.)
In his talks, he relates his own 1995 UFO encounter, as well as stories shared by others met at signing and speaking engagements. His first non-fiction work, UFOS: Presidents and the UFO ENIGMA, is well underway.
Larry Holcombe may be contacted at [email protected].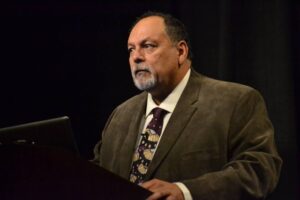 Tuesday, March 14, 2023, 7:30 pm-Ruben Uriarte, MUFON California State Director, will present via zoom THE MYSTERIOUS AIRSHIPS OF 1896 & 1897
Before airplanes were invented, journalists and scientists of the 19th century recorded hundreds of sightings of unidentified aerial phenomena crisscrossing the skies of America. The amazing airship sightings provide a startling, detailed look at these early UFO cases, which tend to confirm that "We are not alone."
He shares about the early airships of the 1890s and early 1900s and his research and book on the Mexican Roswell event few of us know anything about. <rub[email protected]>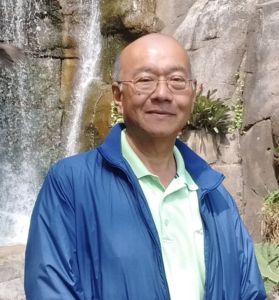 Tuesday, April 14, 2023, 7:30 Pm Zoom presentation John Ramirez-  Dome of Light: Cold War Phenomenon with Modern Relevance
Formerly employed by the C.I.A.,  John speaks out on CIA policies about how they report and work with the other branches of government covering the UFO subject.
An unusual phenomenon known as the Dome of Light was detected by US intelligence sensors during certain Russian ballistic missile test launches. Of particular interest was the SS-20 Sable intermediate range ballistic missile (IRBM). Ballistic missile analysts at the Foreign Technology Division (now the National Air and Space Intelligence Center -- NASIC) at Wright-Patterson AFB attributed the Dome of Light phenomenon to a ballistic missile countermeasures technique. However, this phenomenon was also detected when there were no ballistic missile launches. What did the Russians know about the Dome of Light, which they called the "Petrozavodsk Phenomenon?" The possible answer has surprising relevance to the US government's UAP investigation.
John Ramirez served from 1984 to 2009 in the CIA Directorate of Science and Technology, Directorate of Intelligence, and the ODNI National Counterproliferation Center (NCPC). During his 25-year career he specialized in ballistic missile defense systems and signals analysis of weapon system radars under the parent offices where the legacy UFO study program resided. He served as the Chief of Site for an overseas technical collection facility and was Chief of the Electronic Intelligence (ELINT) Analysis Branch. A founding member of the ODNI NCPC, he was the SIGINT specialist and the multi-discipline collection requirements strategist for counterproliferation equities. Prior to his career in the Intelligence Community, John enlisted in the US Navy as an Electronics Warfare Technician. He is a graduate of the George Washington University in Washington, DC. He is a member of the Association of Former Intelligence Officers and the Central Intelligence Retirees Association. John Ramirez [email protected]