Special UFO New Jersey Lectures and Events
Monmouth County Public Libraries
Gaining Understanding of Unexplained Phenomena for the Betterment of Humanity
FREE monthly lectures, programs, and films sponsored by MUFON New Jersey 
To be added to the email list for New Jersey events
email
Joseph Foster
- or Cell: 908-433-2243
For those who would like to visit a very unique and historic site known for arguably for the creation of the modern "Space Age" as well as being a central component in a well documented (historically speaking) UFO sighting.
(see the attached link below, I'm sure you will find it of interest).
I thought that I would pass this archived article along to you for your consideration:
History Mystery from the Archives
The article is about the 1951 UFO sighting (radar and visual) that had taken place along the Jersey shore that year. The site is commonly known as the Camp Evans site, physically located in Wall Township NJ and formerly a part of Fort Monmouth. This location is also where the first Moon Bounce had taken place on January 10th, 1946 as well as the radar lab and training site of the US Army.
If you would like to explore this formerly Top Secret site and perhaps even bounce your voice off of the moon, come and visit the Info Age Space and Exploration Center (ISEC) on a Wednesday, Saturday or Sunday afternoons.
I am a volunteer Radio Telescope operator at this site every Sunday afternoon, so if the moon is in our view at that time, you can visit this living museum and perhaps bounce your voice off of the moon using our 60' (18 meter) TLM-18 radio telescope. You won't regret the demonstration, tour and history.
Learn more about the speakers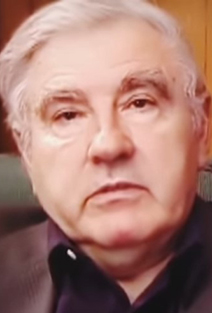 Maj. George Filer USAF Retired
George Filer saw his first UFO in 1962 when he was flying a tanker plane for the Air Force to refuel fighters over England. The control tower sent his plane to investigate a UFO on the radar, near Stonehenge. His plane dove from 33,000 feet to 1,000 feet to find it.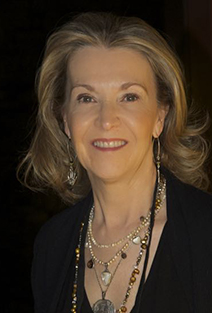 Jennifer Stein UAP Phenomena - Then and Now- What's Changed?
Jennifer Stein is best known for her award winning 90-minute documentary film about the famous 1975 Travis Walton story.
His second encounter came a few years ago, from the bedroom of his Medford Lakes home, which faces Briarwood Lake. "I woke at 4 am", he said, "The bedroom was filled with light pouring in from the window. I saw a UFO surfacing. It looked like a submarine coming out of the water, a blue ionization." Filer spent 20 years in the Air Force, logging over 5,000 hours in the air.
For most of his career he was an intelligence officer. He briefed generals in Vietnam after receiving UFO reports over the DMZ. (demilitarized zone). Since he retired, Filer has become East Coast director of the Mutual UFO Network, the nation's largest UFO organization. From his home office he edits a weekly internet newsletter called Filer's Files.
She has been an activist in the UFO community for about 20 years, as a coordinator and founding member of Main Line MUFON, a community educational service of the Mutual UFO Network in Pennsylvania.
Jennifer serves as a State Section Director for the Mutual UFO Network IN PA. She has published articles in periodicals about the UFO phenomena, precognition, synchronicity and the Crop Circle phenomena, as well as articles about the Travis Walton Film.
She has spoken around the world at numerous conferences on UFOs, crop circles, the Travis Walton story, as well as Ancient artifacts and Ancient architecture that appear advanced for their time. As a young adult she developed her entrepreneurial skills working in a family-owned business while earning a Batcher of Science in Textiles from the University of AZ in 1983.
She is married to her life partner of 40 years and has two adult children in the Philadelphia area of Pennsylvania. A longer bio on Jen Stein can be found here.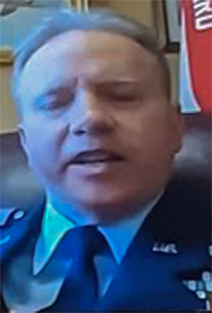 Col. Joseph Abegg
Joe Abegg joined CAP as a cadet in Illinois Wing in 1973. By 1977 he had earned the Spaatz Award, Ranger Expert, the Blue Beret (original school), CAP pilot's wings, an Air Force Academy nomination and an Air Force ROTC scholarship.By 1981 he was an Aerospace Engineer, an Air Force Pilot and a CAP Squadron Commander.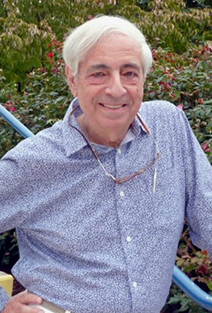 Frank Chille
presented a discussion and power-point presentation featuring - Breakthroughs in Faster Than Light-Thought Propulsion and a Review of Vol. II Selected By Extraterrestrials the further revelations by Williams Tompkins as published by Dr. Robert Wood.
His military career spanned 26 years as an officer where he served in numerous flying, command and control, and leadership assignments to include his last assignment as the CAP-USAF Northeast Liaison Region Director of Reserve Forces and twice chair of the National Reserve Forces Working Group. His CAP career continued when he transferred to the New Jersey Wing in 1981.
There he served as Wing Director of Cadet Programs, Squadron Commander again, Chief Check Pilot, Chief of Stan/Eval, Chair of the Flight Evaluation Board, CAC Advisor, as lead pilot for the winning team at the 1986 CAP National SAR Competition and as a Group Commander.
From 2005 through 2009 he served at CAP National Headquarters as the National Director of Emergency Services and led 26 national projects, chaired the National Emergency Services Committee and was a member of the National Operations Committee, the National Home Land Security Committee, and the National Coast Guard Subcommittee.
From 2009 through 2010 he served as the Northeast Region Director of Operations and the Deputy Chief of Staff for Operations. During his spare time he has been on staff at 24 Cadet Encampments, 21 Region Staff Colleges and five National Cadet Special Activities. He is a graduate of the Air War College, the Inland SAR School, the CAP IG School, the CAP C4 School and the CAP PAO Academy.
In 1987 he started his civilian career as a pilot for Pan Am. After the demise of Pan Am he was hired at United Airlines. While at United he has served as a Line Check Airman and Captain on Boeing 757s/767s, and he is currently a Captain flying Airbus 319s/320s with over 23,000 flying hours.
He has met little known contactees and learned about their extraordinary experiences - one from 1920 here on the East Coast and several others from Southern California. Frank also had experiences at George Van Tassel's Integration located in Landers CA - in the high desert area - above Palm Springs.
Frank Chille has been a self-proclaimed seeker of Arcane Knowledge for the past 45 years. He is a student of metaphysics, ancient civilizations, comparative religions, and has detailed knowledge of mostly unknown contactee experiences from individuals he has met along his life path. He has had firsthand exposure to advanced technology products, has traveled extensively throughout the US and has lived abroad.
Frank has spoken publicly and conducted seminars on diverse subjects on both coasts, as well as for the military on subjects including energy studies and lighting effects on health. He has done many radio programs as well as had some TV experience. Additionally, he has trained individuals as well as marketing teams around the country and has conducted forensic corporate accounting for a Fortune 100 firm in three states.